Recent outings and longer trips
Lanzarote, Spain, March 2008
An exiting island with much more than sun and drinks. We had a busy week visiting all the sites where the dramatic volcanic landscape was framed by the design features of Cesar Manrique.

Northern Lanzarote, Photo: Kim Koblet

Örskär, Sweden, May 2008
A beautiful, calm island in the northernmost part of the Stockholm Archielago. Stay at the nice hostel, enjoy the Baltic sea still shaping the granite and contemplate at the light of the lighthouse.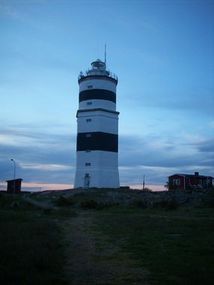 The lighthouse of Örskär. Photo: Sara Borgström
Lake Vättern and Tiveden National Park, Sweden, July 2008
This summer we continued our exploration of southern Sweden. Among other places we visited Visingsö, a beautiful island in Lake Vättern, Vadstena an ancient city with palaces and churches and then the magic old growth forest in Tiveden National Park.

Visingsö garden and church. Photo: Sara Borgström
Strandvägen och Knappelskär, Nynäshamn, Sweden, October 2008
A perfect trip for a sunny Sunday. Enjoy the southern parts of the Stockholm Archipelago, the smell from sunbathing pine trees and sight of seagulls high up in the sky.